Banking Law
Lowther Johnson Attorneys at Law, LLC has served the Springfield community and Southwest Missouri since 1975. Today, our lawyers take pride in our commitment to providing knowledgeable legal advice with a focus on personal attention.
Springfield Banking Law Attorneys
Comprehensive Advice & Litigation Support for Clients Throughout Southwestern Missouri
Lending institutions in the U.S. operate under strict and often ambiguous regulatory regimes. Lowther Johnson Attorneys at Law, LLC provides reliable guidance for retail, commercial, and investment banks, savings and loans companies, and credit unions throughout Missouri. Since 1976, our attorneys have helped a variety of lenders manage compliance despite the proliferation of new rules and regulations.
---
Need professional legal help with a Missouri banking law issue? Arrange for a consultation with a Springfield banking law lawyer by calling us at (417) 557-3407. Or send us an email via our online request form.
---
Banking Law Issues
Our firm provides valuable advice and tenacious representation on a range of matters related to:
Banking regulations
Secured transactions
Commercial borrowing and lending
Consumer protection
No matter the issue, our banking law attorneys have the knowledge and experience to help you.
Banking Regulations
As compliance issues take up more and more of a bank's resources, lenders are relying more heavily on experienced and knowledgeable legal counsel to interpret regulations and assist in drafting and implementing sound policies. Our attorneys work closely with boards and management of financial institutions to help ensure compliance with state and federal law.
The scope of our practice encompasses:
Regulatory matters. These include Federal Reserve matters, Office of the Comptroller matters, Federal Deposit Insurance Corporation (FDIC) matters, Sarbanes-Oxley violations, and anti-trust investigations.
Compliance with state law. This includes affiliate or insider relationships, anti-money laundering, capital adequacy regulations, and more.
Bank representation. This can include conflicting claims against a joint account, exercise of the right to set-off, collections litigation, allegations of unauthorized use of debit and credit cards, creditors' rights litigation, and creditor liens and loans.
Turn to us for advice and guidance on any banking law issues.
Secured Transactions
Since securitization was a crucial factor contributing to the housing and banking crises starting in 2008, lenders now face greater scrutiny and higher standards for collateralization. Strict new standards for foreclosures also have been established.
We advise lenders on the legal efficacy of numerous issues related to secured transactions:
Securitizations
Derivatives
Investment securities
Letters of credit
Audits
Loan workouts
Foreclosures
Bankruptcy reorganization
Remedies under the Uniform Commercial Code (UCC)
We provide pertinent advice and precise legal instruments to enhance the security of your bank's transactions.
Commercial Lending & Borrowing
Lowther Johnson Attorneys at Law, LLC negotiates, drafts, and reviews loan instruments for lending institutions and commercial borrowers. Through due diligence, we have helped clients reach agreement on sound, mutually-beneficial deals for major industrial, commercial, and residential developments.
Our attorneys regularly advise commercial and banking clients on the following legal issues:
Promissory notes
Loans
Security and guaranty agreements
Blocked accounts
Deposit account control agreements
Joint accounts
Revolving credit
Term loans
Equipment leasing and finance
Letters of credit
Mergers and acquisitions
Purchase and sale agreements
Reorganization
Organization of holding companies
Lines of credit
Lenders and commercial borrowers can trust our knowledge, experience, and diligence.
Consumer Protection
Lenders that deal directly with consumers must adopt and maintain policies that comply with state and federal regulations or face liability for damages. Since this is another area where the regulatory landscape is constantly shifting, our firm keeps abreast of changes so our clients can readily adapt. We also provide staunch defense to allegations of improprieties in lending and collections.
The consumer lending issues we manage include:
Truth in lending
Truth in savings
Equal credit opportunity
Fair lending
Electronic funds transfer
Fair Credit Reporting Act
Information privacy and security
Credit card regulations
Mortgage loans
Credit card debt
Internet banking
Cash management services
Frozen accounts
Holds on deposits
Our experience in consumer-protection litigation helps us resolve allegations quickly and cost-effectively.
Consult with a Springfield Banking Law Attorney Today
Lowther Johnson Attorneys at Law, LLC is an established banking law firm conveniently located in and serving lending institutions and commercial borrowers throughout Missouri.
---
For knowledgeable assistance with a full range of banking matters, call (417) 557-3407 or contact us online.
--- The Opinions That Matter Most
Read Our 5-Star Reviews
"Megan Creson was excellent!"

I recently had to initiate a business foreclosure on a property related to my parents' estate in Stone County. Megan Creson ...

- Catherine W.

"Megan was amazing in our case!!"

Megan was amazing in our case!! Very professional, even earning compliments from the judge. Would 100% recommend!

- Ryan S.

"We see Gregg as a friend, as much as we see him as our legal counsel."

Gregg represented both our company and our business in a case where we alleged that the financials provided to us, while ...

- Anonymous

"Exceptional law firm."

Great, professional, and sharp lawyer. Knows his stuff. Worked very hard for me and we won. and he inherited my mess from a ...

- Anonymous

"This firm understands the importance of accessibility and communication."

I have been beyond impressed with my experience with Lowther Johnson Attorneys at Law. They are knowledgeable, prompt, and ...

- Nickie B.

"Intelligent, Profession & Kind"

This carried over from another lawyer that had in quite a mess, and Gregg straightedge out quite quickly. My night in shining armor.

- Sandy F.

"Great people, help like no other."

Great people, help like no other.

- Kimberly G.

"Thank you!"

Jena is always helpful when I need her. Thank you!

- Jessica M.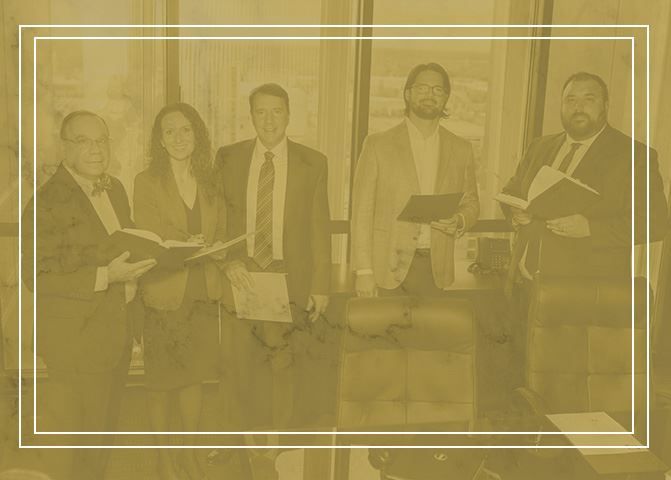 Why Choose Lowther Johnson Attorneys at Law, LLC? What Makes Us Different
Serving Springfield, MO Since 1975
350+ Years of Collective Legal Experience to Guide You

Capable, Distinguished & Experienced Legal Representation

Hundreds of Millions Recovered For Our Clients

Personalized Attention & Carefully Curated Legal Plans


Meet Our Highly-Rated Attorneys Results-Driven. Client-Focused.