Verdicts, Settlements & Results
Lowther Johnson Attorneys at Law, LLC has served the Springfield community and Southwest Missouri since 1975. Today, our lawyers take pride in our commitment to providing knowledgeable legal advice with a focus on personal attention.
Verdicts and Settlements
Randy Reichard obtains $5,000,000 verdict
Randy represented the children of a southwest Missouri man who was shot by his wife who claimed it was accidental. Following a trial, Randy's clients were awarded a judgment of $5,000,000.
Gregg Groves wins $7 Million Dollar Judgment in Fatal Shooting.
Gregg Groves represented the widow and daughter of a man who was brutally shot and killed. The widow and daughter filed a civil suit against the shooter, who is serving time in prison for his actions. After receiving evidence, including testimony from the daughter of the man who was killed, the court entered judgment in favor of the widow and daughter for $3,500,000.00 in actual damages and another $3,500,000.00 for punitive damages.
Wrongful death settlement totaling $2.325 Million Dollars
With the assistance of local counsel in Kansas City, Randy helped obtain a substantial settlement for his clients whose father was killed in a tragic fall from a cell phone tower. The attorneys were able to utilize a special exception in the law which allows for a civil lawsuit against an employer in a work-related accident. Normally, the recovery for work-related injuries is limited by the Missouri workers' compensation system, which does not allow for the recovery of pain and suffering and other types of damages. However, by successfully applying the exception to this rule, Randy's clients were able to realize a settlement that greatly exceeded the amount they would have received under the workers' compensation law.
Randy Reichard obtains judgment after trial for $2.1 million
Following a trial in Greene County, Missouri, Randy's client was awarded a judgment for $2.1 million against a night club for injuries that resulted in the loss of sight in one eye.
Gregg Groves obtains $1.6 Million Dollar Settlement for Below the Knee Amputation.
Gregg Groves represented a man and his wife for injuries the man sustained in an automobile collision. As a result of the collision, the man suffered serious injuries to his ankle, eventually resulting in a below the knee amputation. The man came to see Gregg after his original attorney informed him that he should settle the case for $50,000. After conducting a thorough investigation, Gregg was able to settle the man and his wife's claims for more than $1.6 million dollars. Additionally, Gregg was able to convince the Workers Compensation carrier to provide a hiking and biking prosthetic for the man who engages in rock climbing and ice climbing, despite his injuries.
$1 Million benefits recovered in Workers' Compensation Settlement
A young southwest Missouri man who sustained a head injury when a tree limb fell on him while he was working as a logger needed the help of an aggressive attorney when the employer stopped his medical treatment and declared that he had reached maximum medical improvement. The young man was still suffering personality disorders caused by the injury to his brain in the accident, but the employer and its insurance company declared the conditions were unrelated and that he had fully recovered from the accident. With Randy's help, the client was able to receive the medical treatment he needed to recover from his injury, including a lengthy stay at a world-renowned brain trauma center in Arkansas. Randy's client is now fully functioning and employed and able to live a "normal life." The total benefits recovered as a result of Randy's efforts were more than $1 million.
Randy Reichard and Mathew Placzek settle case for $1 million
The insurer for a local venue paid $1 million to settle a claim against it for injuries our client sustained when his wheelchair overturned while going down a wheelchair ramp following a concert. Because the slope of the ramp exceeded the maximum recommended slope established by building codes, Randy and Mat successfully argued that the venue was liable for a dangerous condition on its property. As a result of the fall, the firm's client sustained a fractured leg and complications resulting from an infection at the site of the injury.
Randy Reichard settles case for $650,000 from mis-wired stove
A Missouri man sustained a cervical spine injury resulting from being thrown against a wall when he received an electrical shock from a mis-wired cooking stove in a downtown St. Louis apartment he was renting. The case was settled at mediation for $650,000.00 a few months before it was scheduled to go to trial. Although the defendant disputed the severity of the injuries of the client and claimed that they were pre-existing, Randy was able to obtain a substantial settlement by aggressively pushing the case to trial and retaining the experts necessary to maximize the settlement for his client.
Randy Reichard settles uninsured motorist claim for $540,750
A southwest Missouri woman who was rear-ended by an uninsured driver while celebrating a family wedding in Las Vegas received the full available insurance policy limits to settle her claim. Randy's client sustained a non-displaced fracture of her lumbar spine when the taxi she was riding in was struck by a careless driver while the taxi was stopped at a traffic signal. When the insurance company delayed payment of the full amount of one of the available policies, Randy threatened to sue the insurance company for statutory penalties, interest and attorney fees available under Missouri law when an insurance company fails to promptly pay its insured without good cause. Within days the insurance company tendered its full policy limits to the client. Because of Randy's aggressive tactics with the insurance company, his client was able to settle her claim early in the litigation process for the maximum amount available to her.
Settlement totaling $800,000 for injuries sustained in Tractor Trailer Collision
Randy Reichard settled a claim against a negligent truck driver and the state of Arizona for dangerous road conditions for a total of $800,000. Randy's client was injured when she was rear-ended by a tractor-trailer when she was stopped in traffic during road construction on a major interstate highway in Arizona. As a result of the collision, she suffered central cord syndrome and was required to undergo surgery on her cervical spine. Randy was able to settle the claim against the truck driver before a lawsuit was even filed, and he was able to obtain a settlement from the state of Arizona shortly after the lawsuit was filed. The early settlement of the claims allowed Randy's client to focus on her recovery from her injuries.
$325,000 Worker's Compensation Settlement
Randy obtained a lump sum settlement of a worker's compensation claim after a successful trial for a client whose Husband died in his truck while working. Although the employer and their experts argued that the man died of a stroke unrelated to work, Randy was able to convince the judge that the stroke was caused as a result of an injury he sustained when his truck ran off the road into the ditch.
Gregg Groves' Diligence Pays Off for Client in $275,000.00 Settlement from Boating Injuries.
A Southwest Missouri woman suffered injuries after being hit by a boat while swimming in a lake. The woman hired Gregg Groves to represent her in connection with the injuries she sustained from the incident. Although Gregg was able to obtain a judgment against the operator of the boat, the operator's insurance carrier refused to pay. Gregg filed an action seeking a court to require the insurance company to fulfill its obligations by paying the judgment obtained against the driver of the boat. After a court ruled that the insurance company was obligated to provide coverage for the boat driver, the parties settled out of court for $275,000.00.
Attorney David Fielder obtains Judgment in excess of $270,000.
Following a two day trial in Taney County, Missouri, a Judgment was granted for Mr. Fielder's client, a local design professional. The Court granted both a money Judgment and imposed mechanics liens on the opposing party's real estate.
Attorneys David Fielder and Mathew L. Placzek Obtain $75,000 Out of Court Settlement For A Student Hit By a Car In A Driveway
In the early hours of December 2008, a Greene County teenager was ran over by a motor vehicle resulting in an injury to his leg. After surgery requiring a metal rod to be placed in the client's leg, he went on to make a full recovery and was able to participate in high school football following the accident.
The client had just over $19,000 in medical bills that were paid by a Municipality Self Funded Insurance Plan. In addition to obtaining the $75,000 out of court settlement, the attorneys were able to convince the self-funded claims administrator to significantly reduce the right of subrogation of the medical expenses generated by the client.
Arbitrator awarded over $130,000 in damages, plus $52,000 for a total Judgment of $182,000 in construction lawsuit.
Craig Lowther recently completed Arbitration in a construction lawsuit in Greene County, Missouri. Our client is an established and well known Springfield builder who built a custom home for a local doctor. The doctor failed to pay the last draw which amounted to more than $130,000 to our client claiming the home was unsatisfactory due to construction defects. Mr. Lowther argued the first eight draws had been paid in a timely manner without mention of any unsatisfactory work and the complaints surfaced only after the homeowner moved in. During the pendency of the case, the builder was awarded $52,000 from the proceeds that were left over in the title company escrow account. The arbitrator decided that when the doctor moved in, the house was "substantially complete" and that the failure to pay the last draw was a violation of the contract. The arbitrator further rej ected claims made by the homeowner that there were hundreds of thousands of dollars of repairs that needed to be completed.
The arbitrator awarded over $130,000 in damages, plus the $52,000, for total Judgment of $182,000. The additional sums were made up of interest, at 18%, pursuant to the contract while lawsuit was pending.
Craig Lowther Wins Court of Appeals Matter Regarding Invalid Collector's Deed.
Craig Lowther was recently successful in a Court of Appeals matter which arose out of the issuance of a collector's deed in Barry County, Missouri. They successfully argued to the Court of Appeals that before a collector's deed is to be awarded to an individual who purchased property at a tax sale, the individual must use good faith and due diligence to provide notice of the right to redeem to the former property owner. In the Barry County case, the trial court erred in ruling the prospective purchaser used the requisite good faith and due diligence. As a result, the client was able to obtain his property back, based on the failure to receive the common law, statutory, and constitutionally required notice issues revised by Lowther and Stubblefield.
Plaintiff Receives Substantial Payment
The firm recently concluded litigation where the seller of a local business had been sued for misrepresentation as to the sales price of the business. The case was concluded by the firm's client receiving a substantial payment from the Defendant. The client did not have to pay anything on the counterclaim that was filed against him. The case was successfully concluded by Craig Lowther. The Opinions That Matter Most
Read Our 5-Star Reviews
"Megan Creson was excellent!"

I recently had to initiate a business foreclosure on a property related to my parents' estate in Stone County. Megan Creson ...

- Catherine W.

"Megan was amazing in our case!!"

Megan was amazing in our case!! Very professional, even earning compliments from the judge. Would 100% recommend!

- Ryan S.

"We see Gregg as a friend, as much as we see him as our legal counsel."

Gregg represented both our company and our business in a case where we alleged that the financials provided to us, while ...

- Anonymous

"Exceptional law firm."

Great, professional, and sharp lawyer. Knows his stuff. Worked very hard for me and we won. and he inherited my mess from a ...

- Anonymous

"This firm understands the importance of accessibility and communication."

I have been beyond impressed with my experience with Lowther Johnson Attorneys at Law. They are knowledgeable, prompt, and ...

- Nickie B.

"Intelligent, Profession & Kind"

This carried over from another lawyer that had in quite a mess, and Gregg straightedge out quite quickly. My night in shining armor.

- Sandy F.

"Great people, help like no other."

Great people, help like no other.

- Kimberly G.

"Thank you!"

Jena is always helpful when I need her. Thank you!

- Jessica M.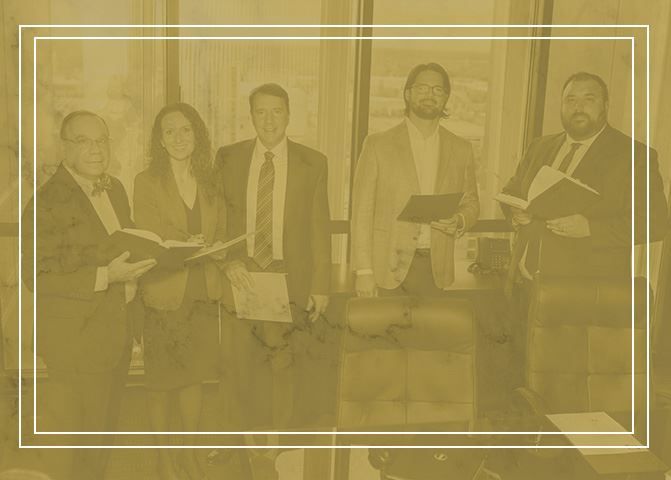 Why Choose Lowther Johnson Attorneys at Law, LLC? What Makes Us Different
Serving Springfield, MO Since 1975
350+ Years of Collective Legal Experience to Guide You

Capable, Distinguished & Experienced Legal Representation

Hundreds of Millions Recovered For Our Clients

Personalized Attention & Carefully Curated Legal Plans


Meet Our Highly-Rated Attorneys Results-Driven. Client-Focused.