Personal Injury
Lowther Johnson Attorneys at Law, LLC has served the Springfield community and Southwest Missouri since 1975. Today, our lawyers take pride in our commitment to providing knowledgeable legal advice with a focus on personal attention.
Personal Injury Attorneys in Springfield
Fighting for the Rights of the Injured in Southwestern Missouri
Another party's negligence, carelessness, or deliberate wrongdoing can change your life in a second. Whether through a car accident, medical error, or some other action, you may find yourself physically and emotionally traumatized while facing an uncertain but mounting financial toll. These unexpected injuries can put you out of work for days, weeks, or longer while you recover through hospitalization, various types of therapy, ongoing doctor visits, and more in the way of medical and personal care. In some cases, disability may be permanent requiring an entirely new lifestyle and accommodations needed to address your altered physical condition.
How Can Our Personal Injury Lawyers Help?
In all cases of personal injury where you have been harmed by another's misconduct, you deserve the financial resources needed to recover as much as possible. At Lowther Johnson Attorneys at Law, LLC, our skilled personal injury attorney team will work hard to win you the compensation you deserve for your medical care and other damages resulting from a preventable accident or incident. We have been providing representation to personal injury victims in Springfield and throughout Southwestern Missouri since 1976. Our history of proven success and legal industry awards and recognition reflect the quality of representation we provide to clients in this region.
---
Injured in an accident in Missouri? Schedule a free initial consultation with our injury lawyers by calling (417) 557-3407 or completing an online form.
---
Handling the Full Range of Personal Injury Claims in Springfield
Our attorneys draw on their decades of experience to handle any type of personal injury claim. Compensation in these cases may include medical expenses, property damage, lost income, pain and suffering, mental anguish, and lost opportunity for the future enjoyment of life. A personal injury claim helps you deal with the financial burdens that result from the harm you have suffered from various types of negligence-based accidents and incidents.
We fight to win compensation if you have been injured in any of the following scenarios:
Vehicle accidents. If you have been injured in a car wreck, motorcycle crash, or truck accident, the insurance company for the negligent driver will try to settle with you for as little as possible. Don't accept that lowball offer. Instead, contact our firm. We are dedicated to winning you the compensation you deserve.
Construction accidents. Construction mishaps happen all too often on jobsites. They can lead to serious head, neck, brain, and spinal cord injuries. We stand up for victims of workplace injuries and fight for a settlement or judgment that fully compensates you for your lost wages, medical bills, diminished earning capacity, and other damages.
Pedestrian accidents. If a driver ran into you while you were walking or jogging, we help you recover appropriate damages. In most situations, a driver has a duty to yield the right of way to someone who is on foot.
Medical mistakes. Doctors are human; they make mistakes. The question is who should pay for their errors — the negligent doctor or the innocent victim. When healthcare providers' mistakes cause you serious harm, justice demands that you receive compensation for their medical malpractice.
Slip and fall. Businesses and property owners owe a duty of care to those legally on their property. When you slip and fall because a property owner failed to safely maintain the property or warn you about a dangerous condition, you deserve compensation for your injuries.
Defective Products. If a business manufactures and sells a product that is defective and this defect causes injury, the business can be strictly liable for these injuries. We are a large law firm that is capable of fighting these difficult and often complex cases on your behalf.
How Long Do I Have to File a Personal Injury Claim?
According to the Missouri Code section 516.120, you have five years to file a claim for your personal injury case before the statute of limitations ends. If the statute of limitation ends before you file a claim, you will likely lose your opportunity to file along with your right to recover compensation. There are some exceptions that can change this five-year time limit so it's important to speak to an attorney as soon as possible. Our firm offers free, no-obligation consultations so you have nothing to lose by contacting Lowther Johnson Attorneys at Law, LLC today.
What Can I Recover in a Personal Injury Claim?
While the specific amount of compensation an injury victim can recover largely depends on the specifics of their individual case, there are three main types of damages that can be pursued in every personal injury claim. These types of damages are:
Economic damages
Non-economic damages
Punitive damages
Economic damages compensate for the financial losses an injury victim suffer as a result from their injury. These losses could include hospital expenses, medication expenses or missed wages due to the inability to work. Non-economic damages, perhaps the most well-known type of damage, compensates the injured party for their non-financial suffering also called pain and suffering, or mental anguish. Punitive damages differ from the first two in that their main purpose is to punish the negligent party instead of compensating the injured party for a loss. Because of this, punitive damages are the least awarded out of the three.
---
Injured by another's wrongdoing? We provide a free consultation with a Springfield personal injury attorney. Contact us online or at (417) 557-3407 to arrange an appointment today.
---
What is a Catastrophic Injury?
A catastrophic injury is a serious injury or illness that was caused by the negligence of another party or parties. It typically leaves a victim suffering from permanent injuries or disabilities for the rest of their lives as well as stress on their family and a lifetime of medical treatment, rehabilitation, and medical bills.
Examples of catastrophic injuries include but are not limited to the list below:
Traumatic Brain Injury (TBI)
Chronic Traumatic Encephalopathy (CTE)
Spinal injury resulting in paralysis (partial or total)
Injuries resulting in severe scarring, disfigurement, or amputation
Serious burn injuries
Any serious injury that results in a long-term or permanent disability that changes the victim's life -- it affects their ability to work, earn a living, and requires long-term medical care
Damages in Catastrophic Injury Cases
Similar to personal injury cases, the damages awarded in catastrophic injury cases are based on the seriousness of the injuries and will likely include loss of wages from not being able to work, bills for current and future medical treatment, as well as emotional distress and the victim's pain and suffering. Punitive damages may also be awarded to punish the party that is responsible.
If you or a loved one were severely injured in an accident, get in touch with one of our experienced catastrophic injury attorneys in Springfield at Lowther Johnson Attorneys at Law, LLC to schedule a free initial consultation.
Rely on Our Springfield Injury Lawyers to Help You Win
Lowther Johnson Attorneys at Law, LLC is dedicated to pursuing your personal injury claim and obtaining maximized compensation for you. Don't rely on insurance companies to do the same. Reach out to us today to set up a free initial case evaluation with one of our experienced personal injury attorneys in Springfield.
---
To schedule your free consultation, call us at (417) 557-3407 or contact us online. We serve clients in Springfield, the surrounding Southwestern Missouri communities as well as throughout the state.
--- The Opinions That Matter Most
Read Our 5-Star Reviews
"Megan Creson was excellent!"

I recently had to initiate a business foreclosure on a property related to my parents' estate in Stone County. Megan Creson ...

- Catherine W.

"Megan was amazing in our case!!"

Megan was amazing in our case!! Very professional, even earning compliments from the judge. Would 100% recommend!

- Ryan S.

"We see Gregg as a friend, as much as we see him as our legal counsel."

Gregg represented both our company and our business in a case where we alleged that the financials provided to us, while ...

- Anonymous

"Exceptional law firm."

Great, professional, and sharp lawyer. Knows his stuff. Worked very hard for me and we won. and he inherited my mess from a ...

- Anonymous

"This firm understands the importance of accessibility and communication."

I have been beyond impressed with my experience with Lowther Johnson Attorneys at Law. They are knowledgeable, prompt, and ...

- Nickie B.

"Intelligent, Profession & Kind"

This carried over from another lawyer that had in quite a mess, and Gregg straightedge out quite quickly. My night in shining armor.

- Sandy F.

"Great people, help like no other."

Great people, help like no other.

- Kimberly G.

"Thank you!"

Jena is always helpful when I need her. Thank you!

- Jessica M.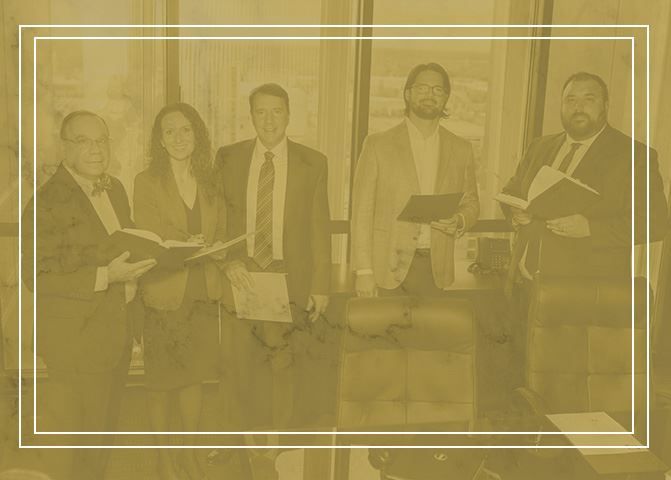 Why Choose Lowther Johnson Attorneys at Law, LLC? What Makes Us Different
Serving Springfield, MO Since 1975
350+ Years of Collective Legal Experience to Guide You

Capable, Distinguished & Experienced Legal Representation

Hundreds of Millions Recovered For Our Clients

Personalized Attention & Carefully Curated Legal Plans


Meet Our Highly-Rated Attorneys Results-Driven. Client-Focused.