Products Liability
Lowther Johnson Attorneys at Law, LLC has served the Springfield community and Southwest Missouri since 1975. Today, our lawyers take pride in our commitment to providing knowledgeable legal advice with a focus on personal attention.
Springfield, Missouri, Injury Lawyers Successfully Handle Product Liability Claims
Helping you obtain compensation for injuries caused by defective products
Manufacturers, distributors and retailers are required to make sure that products meet certain safety standards. Yet dangerous and defective products — from children's toys to automobiles — still harm thousands of American consumers every year. If you or someone you love has experienced an injury from a defective product, you may be entitled to compensation. The injury lawyers of Lowther Johnson Attorneys at Law, LLC successfully have handled a wide variety of product liability claims. We can investigate your claim and help you obtain the compensation you deserve.
What is product liability?
Product liability is an area of law that holds designers, manufacturers and retailers accountable for the injuries suffered by buyers and users of defective products. It also allows injury victims to recover compensation for losses associated with the use of a defective product.
Product liability claims can involve any number of consumer products. Some of the most common include:
Auto defects — Examples include seat belt failures, rollover risks, engine fires and faulty brakes.
Unsafe children's products — Examples include bath seats that can tip over, unsafe clothing with drawstrings and toys that fail to meet lead safety standards.
Dangerous medical products — Examples of defective drugs and medical devices include faulty pacemakers, unreliable hip and knee replacement devices, and medications like Accutane, Yasmin/Yaz and Celebrex.
In many cases, product liability may also overlap with other areas of law, such as personal injury law and medical malpractice. For example, a victim of a motorcycle accident may have a claim against both a negligent driver and the maker of a defective helmet that failed to protect him from head injury during a crash.
Types of product liability claims
At Lowther Johnson Attorneys at Law, LLC, we handle a wide variety of product liability claims. However, they generally fall into one of three categories:
Manufacturing defects — The product is flawed due to a problem during the construction or production of the item. For instance, a machine in the factory malfunctioned causing the wheels of a stroller not to be attached properly.
Design defects — The product is inherently dangerous or defective due to its design. So even if the product is manufactured carefully, it will still pose a danger to consumers. An example would include a poorly designed car susceptible to roof crush during a rollover accident.
Marketing defects — The product is not labeled or marketed adequately to consumers. Examples include improper directions regarding proper use, misleading product labels or insufficient warnings about the dangers of the product.
Obtaining compensation for injuries caused by a defective product
In Missouri, an injury victim can pursue a defective product claim under one or more of the following theories: strict liability, negligence and breach of warranty. Strict liability is most favorable to the plaintiff because it imposes liability for defective products unreasonably dangerous to the intended user regardless of whether the defendant used all possible care in the manufacture, distribution or sale of the product.
Under strict liability, an injury victim generally must prove the following elements:
The defect rendered the product unreasonably dangerous when used as reasonably anticipated
The defendant sold the product in the course of its business
The plaintiff used the product in a reasonably anticipated manner
The defect was the proximate cause of the plaintiff's injuries
To increase the chances of obtaining full recovery in a product liability lawsuit, injury victims generally can pursue legal action against all the companies in the supply chain, including the manufacturer, wholesaler and retailer. Compensation may cover medical expenses, lost wages, loss of physical capacity and pain and suffering.
Consult with an experienced Springfield law firm about your product liability claim
If you or a loved one has suffered an injury due to a defective product, contact an experienced injury attorney at Lowther Johnson Attorneys at Law, LLC today. Relying on more than 25 years of legal experience, we are equipped to take on powerful companies and obtain the compensation you deserve.
---
Call our offices today at (417) 557-3407 or contact us online to schedule a free initial consultation.
--- The Opinions That Matter Most
Read Our 5-Star Reviews
"Megan Creson was excellent!"

I recently had to initiate a business foreclosure on a property related to my parents' estate in Stone County. Megan Creson ...

- Catherine W.

"Megan was amazing in our case!!"

Megan was amazing in our case!! Very professional, even earning compliments from the judge. Would 100% recommend!

- Ryan S.

"We see Gregg as a friend, as much as we see him as our legal counsel."

Gregg represented both our company and our business in a case where we alleged that the financials provided to us, while ...

- Anonymous

"Exceptional law firm."

Great, professional, and sharp lawyer. Knows his stuff. Worked very hard for me and we won. and he inherited my mess from a ...

- Anonymous

"This firm understands the importance of accessibility and communication."

I have been beyond impressed with my experience with Lowther Johnson Attorneys at Law. They are knowledgeable, prompt, and ...

- Nickie B.

"Intelligent, Profession & Kind"

This carried over from another lawyer that had in quite a mess, and Gregg straightedge out quite quickly. My night in shining armor.

- Sandy F.

"Great people, help like no other."

Great people, help like no other.

- Kimberly G.

"Thank you!"

Jena is always helpful when I need her. Thank you!

- Jessica M.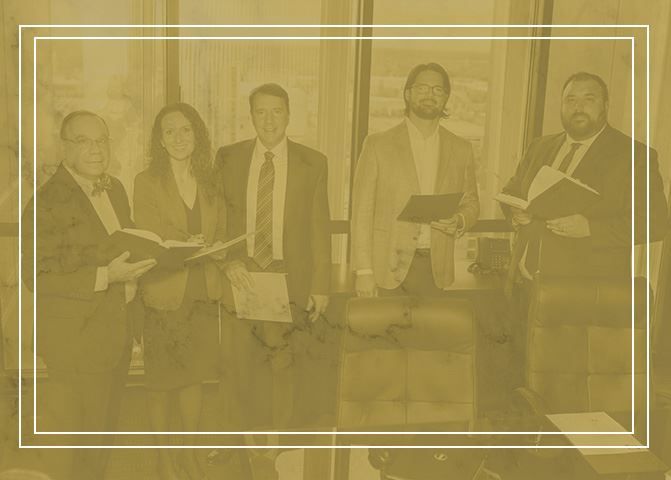 Why Choose Lowther Johnson Attorneys at Law, LLC? What Makes Us Different
Serving Springfield, MO Since 1975
350+ Years of Collective Legal Experience to Guide You

Capable, Distinguished & Experienced Legal Representation

Hundreds of Millions Recovered For Our Clients

Personalized Attention & Carefully Curated Legal Plans


Meet Our Highly-Rated Attorneys Results-Driven. Client-Focused.