Motorcycle Accidents
Lowther Johnson Attorneys at Law, LLC has served the Springfield community and Southwest Missouri since 1975. Today, our lawyers take pride in our commitment to providing knowledgeable legal advice with a focus on personal attention.
Springfield Motorcycle Accident Lawyers
Zealously Pursuing Full Payment for Your Medical Expenses, Lost Wages & More
While motorcycles are a popular way to travel around Missouri, bikers are largely unprotected from dangers on the roadway, such as careless drivers and poorly maintained roads. If you have been seriously injured while riding your bike, you need an experienced accident attorney to protect your interests. At Lowther Johnson Attorneys at Law, LLC, we have the knowledge and dedication to stand up to insurance companies and win the compensation you deserve.
---
Our motorcycle accident attorneys in Springfield are here to help you. Contact us today to schedule a free consultation for your injury claim.
---
Causes of Motorcycle Accidents in Missouri
While motorcycle accidents are far less common than auto accidents, they are typically more serious. In fact, 80% of all Missouri motorcycle crashes in 2011 resulted in death or injury. To date, 82 motorcyclists were killed and 2,166 were injured.
While motorcycle accidents have numerous causes, come of the most common include:
Failure to yield — Drivers can trigger a serious crash by failing to pay careful attention when turning, merging, or changing lanes. Left-turn collisions are particularly common at intersections.
Failures to recognize a motorcycle — Distracted drivers texting or otherwise distracted often don't see motorcycles until it is too late.
Tailgating — Drivers often fail to recognize how quickly a motorcycle can come to a stop. Following too closely can cause a serious rear-end collision.
Road hazards — Road defects, such as potholes, uneven pavement, debris in the roadway, or pooling water, are particularly dangerous for bikers. In some cases, the public entities responsible for maintaining the roadways can be held accountable.
Defective equipment — If a faulty motorcycle part or motorcycle helmet defect contributed to the crash or the severity of your injuries, you may pursue a claim against the manufacturer or seller of the product.
Alcohol impairment and speeding — Single motorcycle accidents often involve risky behaviors on behalf of the rider, including alcohol or drug impairment and speeding.
Because insurance companies will often attempt to shift the blame to the biker, it is always important to have an experienced Springfield motorcycle accident attorney on your side. Under Missouri's comparative negligence statute, if you are found at fault for the accident, any recovery you receive in a personal injury lawsuit is reduced by your percentage of liability. For instance, if you were 20% at fault for the accident, your damages can be reduced by 20%. So long as your liability is 99% or less, you are entitled to recover damages.
Obtaining Much-Needed Compensation for Serious Injuries
While motorcycle helmets offer the best protection from serious brain injury, bikers are otherwise unprotected in the event of a crash. As a result, the injuries they suffer are severe.
Common injuries include:
Head trauma, including concussions
Fractures, including broken legs and cracked ribs
Spinal cord injuries, including paralysis
Disfigurement, including amputations and scarring
Soft tissue damages, including whiplash
Internal injuries, including organ damage
Skin abrasions, including "road rash"
Motorcycle accident victims often face long and difficult recoveries, including many weeks of missed work and costly medical bills. To put yourself in the best position to continue with your life, you need a skilled and dedicated Springfield accident lawyer by your side.
At Lowther Johnson Attorneys at Law, LLC, we work tirelessly on behalf of accident victims to obtain full and fair compensation for:
Medical bills
Costs of future medical care, including reconstructive surgery
Rehabilitation costs
Lost wages
Lost earning capacity
Property damage and other expenses, such as transportation costs
Pain and suffering
Permanent impairments
Loss of enjoyment of life
In the case of a fatal accident caused by negligence, family members may file a wrongful death claim. Potential damages include mental anguish, emotional pain and suffering, loss of society and companionship, and the victim's future work earnings or benefits.
Contact Our Experienced Injury Lawyers About Your Motorcycle Accident
---
Relying on decades of experience, the Springfield motorcycle injury lawyers of Lowther Johnson Attorneys at Law, LLC work hard to get you back on your feet after a serious motorcycle crash. Call our office today at (417) 557-3407 or contact us online to schedule a free initial consultation.
--- The Opinions That Matter Most
Read Our 5-Star Reviews
"Megan Creson was excellent!"

I recently had to initiate a business foreclosure on a property related to my parents' estate in Stone County. Megan Creson ...

- Catherine W.

"Megan was amazing in our case!!"

Megan was amazing in our case!! Very professional, even earning compliments from the judge. Would 100% recommend!

- Ryan S.

"We see Gregg as a friend, as much as we see him as our legal counsel."

Gregg represented both our company and our business in a case where we alleged that the financials provided to us, while ...

- Anonymous

"Exceptional law firm."

Great, professional, and sharp lawyer. Knows his stuff. Worked very hard for me and we won. and he inherited my mess from a ...

- Anonymous

"This firm understands the importance of accessibility and communication."

I have been beyond impressed with my experience with Lowther Johnson Attorneys at Law. They are knowledgeable, prompt, and ...

- Nickie B.

"Intelligent, Profession & Kind"

This carried over from another lawyer that had in quite a mess, and Gregg straightedge out quite quickly. My night in shining armor.

- Sandy F.

"Great people, help like no other."

Great people, help like no other.

- Kimberly G.

"Thank you!"

Jena is always helpful when I need her. Thank you!

- Jessica M.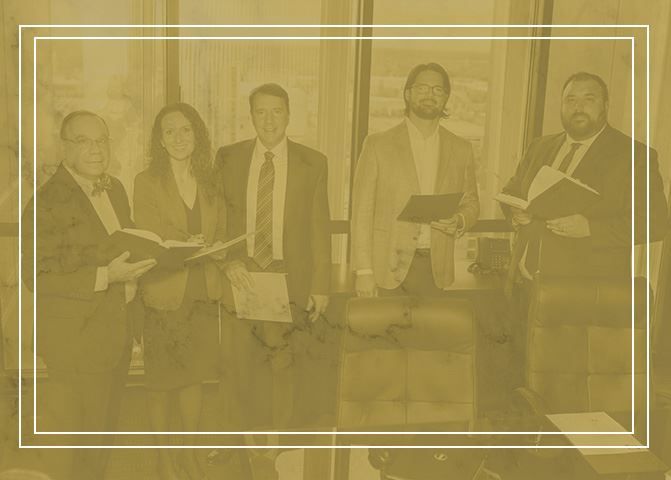 Why Choose Lowther Johnson Attorneys at Law, LLC? What Makes Us Different
Serving Springfield, MO Since 1975
350+ Years of Collective Legal Experience to Guide You

Capable, Distinguished & Experienced Legal Representation

Hundreds of Millions Recovered For Our Clients

Personalized Attention & Carefully Curated Legal Plans


Meet Our Highly-Rated Attorneys Results-Driven. Client-Focused.