Insurance Litigation Coverage Disputes
Lowther Johnson Attorneys at Law, LLC has served the Springfield community and Southwest Missouri since 1975. Today, our lawyers take pride in our commitment to providing knowledgeable legal advice with a focus on personal attention.
Insurance Coverage Lawyers located in Springfield, Missouri Help You Recover From Your Insurance Company
Enforcing insurance policies against insurance companies for money which is rightfully yours
Insurance companies sometimes use loopholes in their policies to avoid providing coverage to injured and damaged insureds. At Lowther Johnson Attorneys at Law, LLC, we work to hold insurance companies accountable and force them to pay pursuant to the coverage you purchased.
---
To learn more about how we can assist you in your case, call our Springfield attorneys at (417) 557-3407 and schedule a consultation.
---
Types of insurance coverage disputes
Insurance law in Missouri is complicated and insurance coverage litigation takes a variety of forms. Some of the most common situations in which insurance coverage litigation is necessary are:
Refusal to pay first party benefits – When an insurance company refuses to pay your property damage claim, health insurance claim, uninsured motorist coverage claim, underinsured motorist coverage claim, wrongful death benefit claim, or alleges you have not sufficiently established the necessary activities of daily living (ADLs).
Vexatious refusal to pay litigation – When an insurance company not only refuses to pay your claim, but behaves in a manner which is so unfair it should be penalized for its poor business practices.
Refusal to defend and indemnify a third party claim – When an insurance company refuses to defend and indemnify you in the event you have a claim made against you or a lawsuit filed against you. This can occur in situations involving auto accidents, other personal injury, property damage, or directors' and officers' liability.
Bad faith litigation and Mo. Rev. Stat. § 537.065 litigation – When an insurance company fails to protect you from harm's way by putting its interests ahead of yours. The protections afforded by Mo. Rev. Stat. § 537.065, which permit Contracts to Limit Recovery, may help you avoid personal liability and force the insurance company to properly defend and indemnify you.
Declaratory judgment coverage litigation – When an insurance company has agreed to defend you but only pursuant to a reservation of rights (ROR). Missouri law gives you various options to protect your bottom line and require the insurance company to treat you properly, including hammer letters, the lifting of applicable policy limits.
The attorneys at Lowther Johnson Attorneys at Law, LLC are specially equipped to assist you with all of the above insurance disputes and many more. Our attorneys have decades of experience in representing and working with insurance companies. This experience and expertise is now being used to fight for both injured parties and those who caused the injuries to dictate the insurance companies live up to their obligations under the insurance agreements they have sold.
Allow Lowther Johnson Attorneys at Law, LLC to assist you with your insurance problems today
If you have a dispute with your insurance company or someone else's insurance company, you need legal advice and representation to maximize your recovery or minimize the amount of money you must pay someone else.
---
Lowther Johnson Attorneys at Law, LLC can assist you in both situations. To schedule your initial consultation, call our office today at (417) 557-3407 or contact us online.
--- The Opinions That Matter Most
Read Our 5-Star Reviews
"Megan Creson was excellent!"

I recently had to initiate a business foreclosure on a property related to my parents' estate in Stone County. Megan Creson ...

- Catherine W.

"Megan was amazing in our case!!"

Megan was amazing in our case!! Very professional, even earning compliments from the judge. Would 100% recommend!

- Ryan S.

"We see Gregg as a friend, as much as we see him as our legal counsel."

Gregg represented both our company and our business in a case where we alleged that the financials provided to us, while ...

- Anonymous

"Exceptional law firm."

Great, professional, and sharp lawyer. Knows his stuff. Worked very hard for me and we won. and he inherited my mess from a ...

- Anonymous

"This firm understands the importance of accessibility and communication."

I have been beyond impressed with my experience with Lowther Johnson Attorneys at Law. They are knowledgeable, prompt, and ...

- Nickie B.

"Intelligent, Profession & Kind"

This carried over from another lawyer that had in quite a mess, and Gregg straightedge out quite quickly. My night in shining armor.

- Sandy F.

"Great people, help like no other."

Great people, help like no other.

- Kimberly G.

"Thank you!"

Jena is always helpful when I need her. Thank you!

- Jessica M.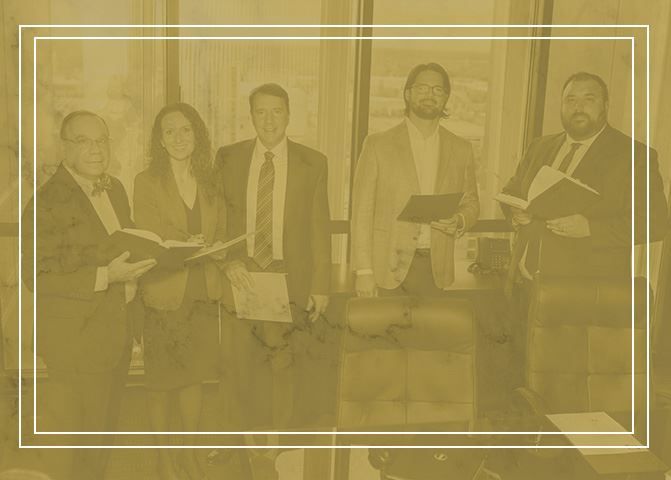 Why Choose Lowther Johnson Attorneys at Law, LLC? What Makes Us Different
Serving Springfield, MO Since 1975
350+ Years of Collective Legal Experience to Guide You

Capable, Distinguished & Experienced Legal Representation

Hundreds of Millions Recovered For Our Clients

Personalized Attention & Carefully Curated Legal Plans


Meet Our Highly-Rated Attorneys Results-Driven. Client-Focused.