Medical Malpractice
Lowther Johnson Attorneys at Law, LLC has served the Springfield community and Southwest Missouri since 1975. Today, our lawyers take pride in our commitment to providing knowledgeable legal advice with a focus on personal attention.
Medical Malpractice Attorneys in Springfield, MO
Holding Health Professionals Accountable for Their Mistakes
We rely on doctors, nurses, and other health care providers to help us get better. When negligence causes further harm, the Springfield medical malpractice lawyers at Lowther Johnson Attorneys at Law, LLC can help you hold medical professionals responsible for their errors. Our experienced attorneys understand the complexities of medical malpractice actions and work diligently to help victims and their families obtain the compensation they deserve.
How Long Do I Have to File a Medical Malpractice Claim?
Since injuries inflicted through medical malpractice are not always discovered right away, the statute of limitations for medical malpractice cases works a little different than that of other personal injury claims. According to the Missouri Revised Statutes section 516.105, you have two years from the date you sustained your injury to file a claim or the date you discovered your injury to file a claim with the maximum time limit of ten years to file a claim. The statute of limitations can be a complex area of medical malpractice law. The attorneys at Lowther Johnson Attorneys at Law, LLC can help you understand your options. Call our firm today to get started.
---
Schedule an appointment with a Springfield, MO medical malpractice attorney by calling us at (417) 557-3407. Find out whether you may be entitled to compensation for your injuries.
---
Medical Mistakes Can Take Many Forms
Medical errors account for nearly 100,000 deaths in the United States every year, while thousands more are injured. Some of the most common types of medical negligence include:
Surgical mistakes — Examples include performing surgery on the wrong site and failing to remove foreign objects from the body after surgery. These errors may result in infection, delayed recovery, or repeat surgery.
Birth injuries — Examples include misuse of forceps, failure to diagnose a maternal medical condition, or failure to order a timely cesarean section. Common injuries include brachial plexus injuries, cerebral palsy, and Erb's palsy.
Misdiagnosis and treatment errors — Examples include misinterpreting lab results, improper cancer staging, or failing to acknowledge patient complaints. Mistakes may result in delayed treatment, poor prognosis, and even death.
Failure to obtain informed consent — Examples include failing to explain the potential benefits, risks, and alternatives associated with a medical procedure prior to treatment.
Medication errors — Examples include prescribing the wrong medication, administering an incorrect dose, or failing to account for drug interactions. Pharmaceutical errors can lead to serious complications, particularly in small children.
Hospital negligence — Examples include insufficient staffing, lack of safety controls, or inadequate training. Health care facilities are also liable for incompetent care provided by their employees, including nurses, medical technicians, and other staff members.
Medical device errors — Examples include human errors, such as failing to respond to alarms and failing to properly insert an IV as well as defects with the device itself. Depending on the circumstances, patients may pursue a medical malpractice or product liability suit.
Proving Liability in a Medical Malpractice Claim
Medical malpractice generally involves a negligent act or omission by a doctor or other health care professional, resulting in injury or harm to a patient. To prove negligence, patients must satisfy the following four elements:
The defendant owed a duty of care to the patient — This element rarely presents an obstacle given that doctors, nurses, and other health care workers owe a duty of care to all patients.
The defendant violated the relevant standard of care — Patients can use a variety of sources, including medical journals, hospital policies, state and federal regulations, and expert testimony, to establish the appropriate standard of care.
The patient suffered a compensable injury — Injuries, such as surgical complications and infections, are generally readily ascertainable. However, poor prognosis because of delayed diagnosis or improper treatment can be harder to prove.
The injury was caused by incompetent conduct — Proving the substandard care led to the patient's condition can be difficult. Medical professionals will often argue that other non-preventable factors caused the patient's condition.
Medical malpractice suits can be complex and costly. As one of the largest law firms in Springfield, Lowther Johnson Attorneys at Law, LLC has the resources and experience to aggressively pursue your medical malpractice or wrongful death case from investigation to trial.
Obtaining Financial Recovery for Your Ordeal
A successful Missouri medical malpractice case may include both economic and non-economic damages such as lost wages, medical bills, and other life-care expenses, pain and suffering, or reduced enjoyment of life due to disability. Punitive damages are designed to punish the medical professional and are awarded only in cases of wanton and reckless conduct. Unlike many other states, Missouri does not currently place a cap on non-economic damages.
Protect Your Legal Rights by Contacting a Springfield, MO Medical Malpractice Attorney
If you or a loved one has been a victim of a medical mistake, contact an experienced injury attorney at Lowther Johnson Attorneys at Law, LLC today.
---
We can guide you through the legal process while you focus on getting better. Call our offices today at (417) 557-3407 or contact us online to schedule a free initial consultation with our Springfield, MO medical malpractice attorneys.
--- The Opinions That Matter Most
Read Our 5-Star Reviews
"Megan Creson was excellent!"

I recently had to initiate a business foreclosure on a property related to my parents' estate in Stone County. Megan Creson ...

- Catherine W.

"Megan was amazing in our case!!"

Megan was amazing in our case!! Very professional, even earning compliments from the judge. Would 100% recommend!

- Ryan S.

"We see Gregg as a friend, as much as we see him as our legal counsel."

Gregg represented both our company and our business in a case where we alleged that the financials provided to us, while ...

- Anonymous

"Exceptional law firm."

Great, professional, and sharp lawyer. Knows his stuff. Worked very hard for me and we won. and he inherited my mess from a ...

- Anonymous

"This firm understands the importance of accessibility and communication."

I have been beyond impressed with my experience with Lowther Johnson Attorneys at Law. They are knowledgeable, prompt, and ...

- Nickie B.

"Intelligent, Profession & Kind"

This carried over from another lawyer that had in quite a mess, and Gregg straightedge out quite quickly. My night in shining armor.

- Sandy F.

"Great people, help like no other."

Great people, help like no other.

- Kimberly G.

"Thank you!"

Jena is always helpful when I need her. Thank you!

- Jessica M.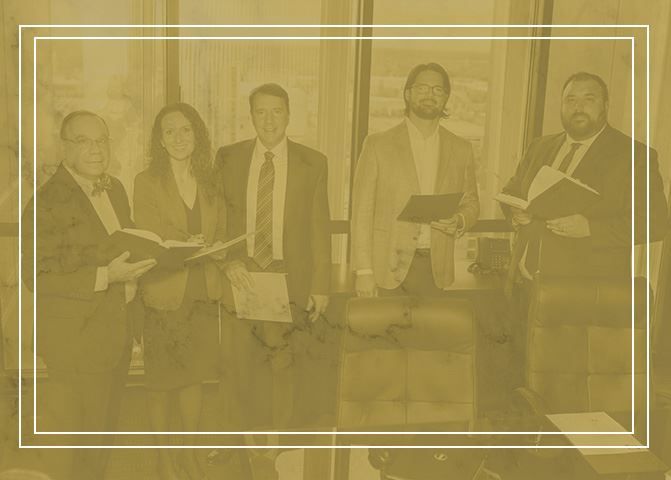 Why Choose Lowther Johnson Attorneys at Law, LLC? What Makes Us Different
Serving Springfield, MO Since 1975
350+ Years of Collective Legal Experience to Guide You

Capable, Distinguished & Experienced Legal Representation

Hundreds of Millions Recovered For Our Clients

Personalized Attention & Carefully Curated Legal Plans


Meet Our Highly-Rated Attorneys Results-Driven. Client-Focused.